RUSTPROOFING – AUTOBLAST'S UNIQUE SOLUTION
---
For long term protection against nasty, corrosive environments, Autoblast's custom hybrid rust killing, undersealing, cavity wax/rust proofing system will help prevent the necessity of costly maintenance and repairs to body and chassis structures.



1
RUST KILLING
Cavity Wax Wand
Rust can occur even in brand new vehicles, in places where paint cover may be thin or non-existent. The first step involves converting any existing visible rust into a stable compound. We use an epoxy rust converter to kill and stabilize/neutralise all of these rusty areas so they can be over-coated. A second application of this epoxy rust converter serves as a primer for the undersealing system.
2
CHASSIS UNDERSEALING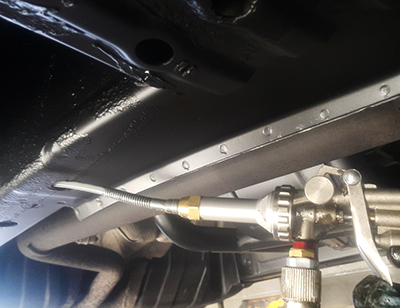 Cavity wax gun in action on a chassis rail
A world-renowned underseal product from Dinitrol is used to seal the chassis, inner guard areas and body seams. This is a robust, self-healing underseal with good abrasion resistance. It is black in colour and very suitable for extremely corrosive conditions and high-wear areas, such as the inner guards and the external, underneath surfaces of the chassis exposed to gravel impacts.
3
RUST-PROOFING
Cutaway of a cavity waxed 'B Pillar'
First, all accessible box sections and chassis rails of the vehicle underbody are coated with Dinitrol 3650, using a long thin wand. This product is a thixotropic corrosion preventive fluid, mainly based on synthetic waxes and corrosion inhibitors. The solvent evaporates, leaving a beige, waxy, water-repellent protective film that providing excellent rust protection. Its viscosity can reduce over time but depending on the conditions, the adhesion actually improves with time and vibration.
---
ONGOING PROTECTION
All external underbody surfaces are lightly coated in Dinitrol 3650 for improved rust protection. This final coating will move and stay waxy over the years. We recommend inspecting the coating from time to time to assess how it is wearing. If it starts wearing off due to heavy usage it can quickly, easily and cheaply be recoated to keep your vehicle in top shape and rust free for many years.

EXTEND YOUR VEHICLES LIFE IN JUST 24 HOURS*
We can rustproof most cars in as little as 24 hours' time. Call us now for a booking.
Contact Us