We've enjoyed working with some fantastic clients over the years, helping them to realise their dream restoration with the best possible preparation. It's our pride and pleasure. Thank YOU!
---
"Exceptional blasting and priming job…"
Thanks to the Autoblast team for the exceptional blasting and priming job on my 1964 Chevrolet C10 Chassis. The work was of an extremely high standard, and kept to tight deadlines and quoted prices. From the first enquiry Dave was very professional and made the whole process extremely easy. The staff were very knowledgeable and understood my concerns and requirements fully. The workmanship was impressive and far exceeded my expectations. I would not hesitate in recommending Autoblast to anyone.
Client: Ben Seales
Project: 1964 Chevrolet C10
Type: Media blasting, Epoxy priming
Year: 2016
---
"We were amazed with the finished result."
Great job and care taken on my 1966 Holden Station Wagon N.O.S. Body Shell. Ten years previous it was acid dipped filed and leaded. Which needed a fresh up with blasting and etch priming. I can fully recommend Daves Services. My panel beater and I were amazed with the finished result.
Client: H. N. Amos
Project: 1966 HR Holden Station Wagon
Type: Media Blasting & Etch Prime
Year: 2015

---
"Thank you for going the extra mile…"
David, I have enjoyed working with you this year and am looking forward as our project progresses from Media Blast to Final Paint. Others I've entrusted with ongoing work to the car over the years have been equally impressed by your workmanship. Your attention to detail was thorough, your desire to meet my expectations an keep me informed throughout the processes was appreciated. You set to and delivered a top product! Thank you for going that extra mile for the contractors and me.
Client: Dave & Claire Siddens
Project: '71 Triumph TR6
Type: Media blasting
Year: 2012
---
"Will definitely be back for more…"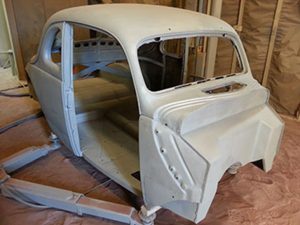 Thanks for the awesome work you have done on the body of my Ford '39 Standard Coupe.
The blasting and priming job was done to a very high standard making the rest of my job finishing off the body ready for painting a lot easier.
I will definitely be back with the rest of the parts to be done.
I would not hesitate in recommending your company to anyone looking to restore or build a hot rod.
Thanks again guys
Client: Paul Chapman
Project: '39 Ford
Type: Media blasting, epoxy coat & cavity wax
Year: 2011
---
"Zinc/alu spray system simply amazing…"
Hi Dave, just a few words of thanks for the outstanding work you have done on my HQ Monaro. Your honest opinion was very reassuring and the end result backs up your statements. I am simply amazed at the zinc/alu spray system that you have as well; the sandblasting through to the 2k etch primer is very satisfactory.
The finished result from your work on the body shell is awesome and I'll continue to use your services for stripping the many other parts.
Client: Karl Stanbra
Project: Holden Monaro HQ
Type: Blast, Spray, Epoxy, Wax
Year: 2012
---
"From day dot the service was exceptional…"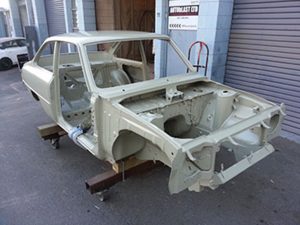 Hey Dave, I would like to take this moment to thank you and the team at Autoblast for the outstanding job that was done on my 1971 Mazda R100. From day dot the service was exceptional, the team was extremely helpful and the quality and care that was taken when blasting was much appreciated. I would highly recommend you and the team to anybody wanting blasting services.
Client: Benson Walker
Project: 1971 Mazda R100
Type: Media blasting
Year: 2009
---
"From sows ear to silk purse…"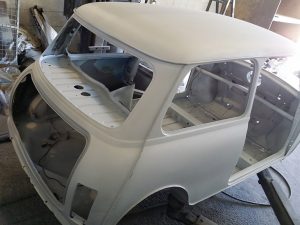 Just a note to let you know how pleased I was with the job done on my mini shell. You took delivery of a bit of "a sows ear" and gave me back a "silk purse". It made the job of panel repair so much easier.
The job itself was a bit bigger than I had imagined but your timeliness, customer service and price made it all the more painless.
Thanks very much indeed.
Client: Noel Ward
Project: Mini shell
Type: Media blasting
Year: 2011
---
"WOF passed with flying colours."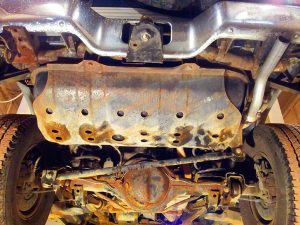 David,
Just to let you know that the Mazda passed its WOF with flying colours at Parnell Motors.
I took the liberty of leaving your card with them so hopefully you'll get more referrals. I know they were suitably impressed by the work so good luck in that direction.
Thanks again.
Client: Kevin Smith
Project: Mazda underbody rust
Type: Media blasting, epoxy coat & cavity wax
Year: 2010