Rustproofing,
Media Blasting Sandblasting

& Underbody Galvanising Experts

Want to protect your new car from salt damage? Has your vehicle failed its WOF because of underbody rust? Are you looking for the best possible start to your restoration project? You've arrived at the right place. Autoblast are the automotive rustproofing, media blasting, sandblasting and underbody galvanising specialists in Glenfield, Auckland. Rustproofing start from only $950 +gst and can significantly extend your vehicle life. Call us now or pop in for a visit.
Thanks for the awesome work you have done on the body of my Ford '39 Standard Coupe. The blasting and priming job was done to…
Will definitely be back for more…
'39 Ford
Media blasting, epoxy coat & cavity wax
David, Just to let you know that the Mazda passed its WOF with flying colours at Parnell Motors. I took the liberty of leaving your…
WOF passed with flying colours
Mazda underbody rust
Media blasting, epoxy coat & cavity wax
Hi Dave, just a few words of thanks for the outstanding work you have done on my HQ Monaro. Your honest opinion was very reassuring…
Zinc/alu spray system simply amazing…
Holden Monaro HQ
Blast, Spray, Epoxy, Wax
Hey Dave, I would like to take this moment to thank you and the team at Autoblast for the outstanding job that was done on…
From day dot the service was exceptional…
1971 Mazda
Media blasting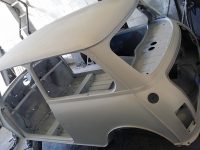 Just a note to let you know how pleased I was with the job done on my mini shell. You took delivery of a bit…
From sows ear to silk purse…
Mini Shell
Media blasting
Thanks to the Autoblast team for the exceptional blasting and priming job on my 1964 Chevrolet C10 Chassis. The work was of an extremely high…
Exceptional blasting and priming job…
1964 Chevrolet C10
Media blasting, Epoxy priming
The Auto Channel #4 wrote a great article about how this fabulous 1969 Holden HK premier Station Wagon…
Autoblast blasted the shell of this beautiful 1970 Volvo P1800E as profiled in the April 2018 edition of…
Autoblast stripped back this stunning Holden 1973 Chevrolet Camaro. Check it out! (Page 44)
AUTObLAST 4WD Restoration
Under-body galvanising and rust removal Autoblast, Glenfield, Auckland.
Restoring an heirloom? Underbody rust problems?
Get a free appraisal now and be on the road again faster.